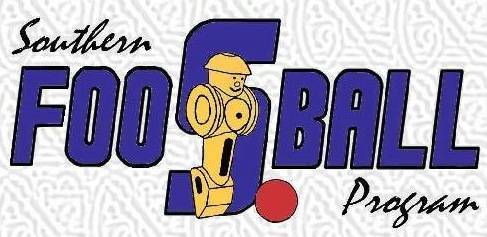 This foosball table is so cool! Whether you're looking for a fun table for the home, business, or office, something to provide a little recreational time with the family and friends, or if you're in need of a table to help you practice your skills in an effort to become more dominant on the professional foosball Tour, Tornado of Alabama has the table for you. Tornado of Alabama is the primary sponsor for the Southern Foosball Program and its' activities including this web site.


Tornado of Alabama can be your source for foosball tables, parts, and supplies. Sometimes used tables are also available. Tables are also available for businesses interested in coin-operated tables, or even consignment opportunities.
The entire line of Tornado foosball tables come packed with all the high-quality Tornado features-- including the unique playing characteristics that have made "Tornado" the standard foosball table and the players most popular choice in the USA. See more information here.
---
For information on foosball competition in the Southeastern USA, you should bookmark this web site before leaving and visit it regularily for updates. Information is added periodically.
---
[ABOUT THE PROGRAM]
[SPOT-ADVANCE PROCEDURES]
[R'ROBIN LEAGUE FORMAT]
[CLASS POINT RATINGS]
[TOP MONEY WINNERS]
[TABLES FOR SALE]
[PARTS]
[ALABAMA FOOSBALL PROGRAM]
[PICTURES]
Direct your questions or comments to the Southern Foosball Program/Tornado of Alabama/Rodney Jenkins at (256) 734-6349, or jenkins@southernfoosball.com.