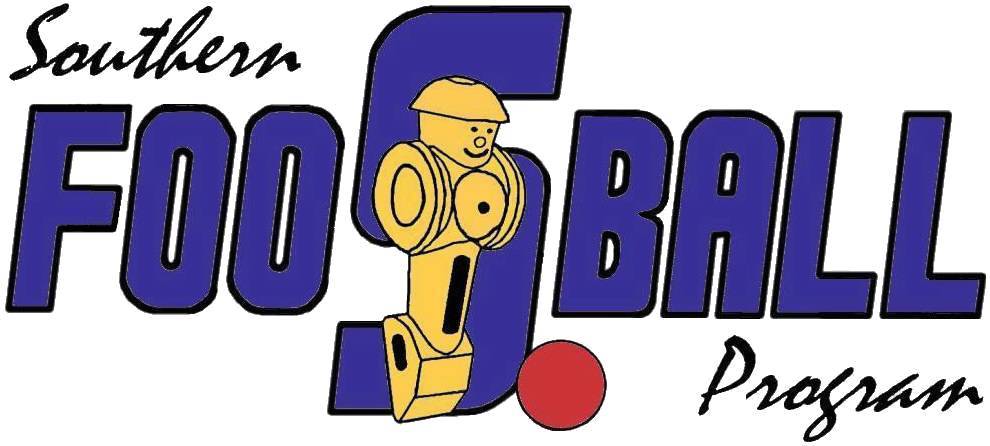 ABOUT THE PROGRAM
IT'S EVENTS & STANDARD PROCEDURES:
The Southern Foosball Program is nothing more than organized TABLE SOCCER competition created and presented by Rodney Jenkins along with other dedicated enthusiasts and practitioners of this awesome/unique sport we call FOOSBALL. Please continue and read more about the Program below, or use the links provided to quickly jump to preferred information.

For Your Information:
About the Program:
Practically ever since exposed and intrigued by this game way-back in the very late 1970's, Rodney Jenkins has been dedicated to creating and coordinating a competition structure for anyone encountered with desire and enthusiasm about playing foosball. During the earliest period, the competition presented was played primarily on the old Dynamo & Challenger glass-top foosball tables. It wasn't until 1987 when Rodney came across the National players circuit and the Tornado foosball table. Rodney purchased a couple tornado foosball tables and placed them on location in Cullman, Alabama for his group of foos-friends. Eventually Rodney started placing foosball tables in different areas for pockets of foosball players scattered about North & Central Alabama. Eventually, tournament interest spread to other areas and Rodney created the Alabama Tornado Foosball Program which featured scheduled tournaments in different cities throughout the state. Eventually, the effort spread into surrounding states and referred to the Southern Foosball Program.

The Dixie Foosball Program, and eventually the Southern Foosball Program, it's nothing more than organized table soccer competition presented by the players and enthusiasts of this awesome sport we call FOOSBALL. Rodney Jenkins coordinates foosball activities for affiliated locations throughout the Southeast along with periodic regional events in areas where there are enough local players interested and willing to participate and support such events. Are you a foosball enthusiast? If so, there should be a local foosball Program in your area. You can read more about how to get involved a bit farther down in this text.

The Program is sometimes referred to as SouFooPro and it represents a network of people who enjoy playing this game as a recreational activity along with those who enjoy playing foosball in a sporting format. Many people play foosball casually, just for the fun and excitement that it creates. Some people play foosball as a sport, enjoying its' unique competitive characteristics. All foosball enthusiasts of any skill level are welcome and encouraged to participate in the Programs' activities/events. A sportsmanlike attitude is all that is required.
It is a top priority of our program to help interested players of any skill level learn the sport of foosball-- and it is the sole purpose of the spot'advance, draw for partner, amateur, and round-robin events.


The Program, periodically, presents championship tournaments, sometimes for substantial guaranteed cash prizes. The main event, usually open doubles, allows any interested persons/players of any skill level to team together with the partner of their choice to compete for the most substantial prizes offered by the Southern Foosball Program. It is likely that you may get the opportunity to compete against professional & semi-pro players during these events. Nationally ranked pro & semi-pro players are ineligible to compete in the Programs' "Rookie" and "Amateur" events.

For the not-so-serious players, there's league competition, which includes the Valley International Foosball Association (VIFA) league events, and the Programs' Amateur Round Robin Leagues. The Program also coordinates amateur tournaments that award non-cash prizes. Check the schedule for these events. For more information about the Program's events see: Standard Procedures.

In areas where there are players interested and willing to help coordinate, participate, and support organized foosball competition, the Program can help provide foosball tables and the promotional support needed to help excite a new, or the existing, local foosball interest. For more information contact the Program headquarters/Rodney Jenkins at Ala_Foos@yahoo.com. Also see Tornado of Alabama.

The purpose for this web site is to provide a source of foos-events & scheduling information, and, most importantly, a source of recognition for outstanding achievements & accomplishments of those participating during the events presented. SouFooPro is the schedule and information about where, what, and when it happens. Whether it's a location where players may frequent for pick-up games, a location hosting weekly league or tournament play, or it's a location that may host occasional championship events for the Program, if it's happening at an affiliated location, it should be represented on the Southern Foosball Program web site. Be sure to visit the tournament schedule regularly for updated information.
About the Program's Events:
"Open" tournaments: "Open" is a popular term used describing events that allow all players eligible. Beginner to Pro, players of any skill level are eligible to enter and compete for, usually, the most substantial prizes of the tournament where less experienced players sometimes qualify for cheaper entry fees. "Open Doubles" is usually deemed the main doubles event of a multi-event tournament where players must team with a partner for the competition, and "Open Singles" deems players to compete individually. "Open Mixed Doubles" is a format requiring a male/female pair-up for the teams involved. The "Open Draw" format allows anyone to sign-up and the teams are determined by a random draw concept. The Program uses the term "Open Championship" to describe a format where players are allowed to enter and compete alone and/or along with partners--up to four players, allowing players to share the "team entry fee" expense accordingly.

Spot-in-Advance Events: Once upon a time referred to as the "handicap tournament procedure", is events open to any skill level of player, but additional requirements may be deemed necessary for higher rated teams to accomplish in order to win a game during a match. For example, a "two-point spot-in-advance requirement" means that the higher rated team will have to score two points, then rake their counter back to zero and then attempt to score the traditional five points necessary to win the game. While at the same time, the lower rated team is only required to score the traditional five points to earn the game win. Winners of these matches are determined by the best of three games. The Program has a scale that is used to determine spot-advance requirements during a match. It employs the Class Point Rating System. For additional information on spot-in-advance procedures, go to the [SPOT-IN-ADVANCE TOURNAMENT] page.
Domination: is an event established by the Program years ago as a result of gambling restrictions. Now used occasionally, the format sets up the situation where you can pay players to play a game of foosball, or get paid to play. Whether it's playing singles, or with a partner, the format is a great aid for practice and/or a proof of dominating skills--which is where it gets it's name. It's nothing but legal money games, but money games tend to motivate foosball players to perform at their top-level of play. Exposure to a quality players top-level play can be valuable experiences for the still-learning competitors.
Games are played where the winner is allowed to stay on the table and continue accepting challenging teams for additional games. The challenger submits to the "table-holder" the pre-determined challenging entry fee prior to beginning each game. Since the winner stays on the table and has the opportunity to earn additional cash by collecting challenging fees after each win, the conditions are set that seems to create the valuable competitive experiences we, as competitors, all strive for. Exposure to these conditions are proven to be very valuable experiences for those with goals of expanding their level of playing foosball.
When used as an official organized event, the format starts out like this: A random draw determines the ordered list for the initial participants. For the first game of the format, both teams are considered "challengers" and are required to pay the "challenging fee" to the event coordinator for later use. After the first and subsequent games are complete, the winner always stays on the table and accepts the "challenging fee" from the next "challenging team". A list of the order of challengers is kept convenient where new teams and those interested in additional challenging games can sign-up at the end. When playing doubles, the format can start as a draw-for-partners. After the order and drawn teams have had a turn challenging, individuals can then sign up for additional challenge games and then pick a partner when their turn comes up again.
Official rules of play are implemented as usual with two time-outs allowed per game. A maximum of 3 minutes is allowed between games. Players not available to start the next game within the "3 minute between games" period must forfeit their position to the next challenger.
At the end of the event period or when the challenging list expires, the remaining winning team is qualified to see the coordinator and collect the entries submitted by the initial challengers. Sometimes a "Dominating Team" is declared as suited and determined according to the competition results.

International league competition is organized by the Southern Foosball Program in these locations as well as in others. The Valley International Foosball Association (VIFA) format allows a group of players to team together and compete in a league format that provides fun and exciting foosball-for-fun competition for players of all skill levels. The format is handicapped which equals the playing field for less experienced players. VIFA requires annual charter fees as well as annual player membership dues for participants of the format. For more information, contact the Program.

Amateur only leagues are organized by the Program as well. The amateur league competition allows you to form your own league of three or more players that you like to compete with and against. The Round Robin format requires no entry fee, so players are competing for bragging rights. Individual statistics are created which dictates the winners. Special prizes are sometimes awarded.

Customs & Courtesies

It's our mission and goal to allow anyone interested to participate in our foosball tournament Program; however, appropriate attitudes, ambition, and general customs and courtesies are expected of all participants. Conduct of acceptable sportsmanship and a sportsmanlike attitude is expected and required when participating in the Programs events. A proper sportsmanlike attitude is particularly important when participating "draw-your-partner" type tournaments, where it is customary that each player will strive to perform their very best with a "will to win" ambition no matter the circumstances. Players should not participate DYP events under the influence of drugs or alcohol to the point that it negatively affects their ability to perform at their best competing potential. All of which, will be deemed an act of un-sportsmanlike conduct and will result in the guilty player being deemed ineligible for future draw-type tournaments.

Appropriate Sportsmanship is Mandatory

Those that play foosball already know how easily the game can ramp-up ones' most competitive spirit and attitude at times. Like a lot of other games/sports, right from the start every aspect of the game test ones' ability, skill, speed, strength, and strategy against an opponents same. Even though pretty much standing in one place while playing, there is so much going on in the mind--and practically face-to-face with the opponent the whole time. The heat of the moment can cause things to be said and heard that can easily strike a nerve of an opponent of which tends to create tempers flaring occasionally. Competitive foosball players are just like competitive athletes of almost every other competitive sport being played these days where efforts to gain the competitive edge over an opponent are commonly demonstrated. Some players fall victim of getting overly sensitive to this type stuff and it can affect their ability to perform, which then becomes the strategy in causing a conflict.  With all that being said, I'll wrap it up with the following important statements:  Participants of the Program's events are expected to play within a reasonable effort of adhering to the official rules of play.  Also, when necessary, participants will be required to handle any and all disputes and disagreements in an appropriate good sportsmanlike manner. Loud and continuous arguing, cursing, etc., including provoking and heckling another person at any time will not be tolerated! Players raising their voice in anger and argument loud enough to be heard by others away from the immediate foosball table area will be required to leave the premises of the business and therefore facing forfeiture from the competition. Players fighting and/or threatening others will be removed also and will also face being banned from future participation of the Program's events. No exceptions! The Program's events are intended to create an opportunity for it's participants to enjoy the fun & excitement that playing foosball and competition can provide. Those players that are continuously the center of controversy and drama will eventually be prohibited from participating.
Players forfeiting during competition are expected to reimburse their partner. If a player is responsible for a doubles team being forfeited from a tournament, it is customary and courteous for the causing player to redeem the partners entry fee along with the additional value the said partner would have been eligible to win if that team had one first place during that particular tournament. In fact, this particular custom is required in the case of "draw-type tournaments". In this case, the causing player will not be eligible to compete in another "draw-type" tournament until this custom has been fulfilled. The only exception would be in the case of an unforeseeable emergency.

Time-efficient tournament match coordination process

It is intended to be a top-priority and goal of this foosball tournament program, to coordinate it's tournament events as time-efficiently as possible for the benefit, enjoyment, and satisfaction of it's participating players, most of whom, may need to juggle priorities with work and family in order to create their opportunity to play foosball in this way. The popular tournament play-off structure is "double-elimination bracket-play" with winners determined by a series of games played. Since this format creates the potential for a substantial amount of foosball to be played in order to reach a winning team, the tournament coordination process needs to be time-efficient. Time-efficiency should include a process of on-time starting as close to the scheduled event time as possible, then, coordinating the matches as efficiently as possible with an effort to arrive at a champion team as quickly as possible.  In order to help the process, participating players should do their part by being on-time and ambitiously available to play their matches promptly when applicable.  All pre-tournament pickup games and/or between-match practice-play involving the tournament foosball tables should end immediately upon the presents of the players that are to be involved in the matches called. Do not hold up the tournament playoff process.


Uneven number of players for a draw!

When it is determined that there will be an uneven number of entrants for a draw-your-partner event, a volunteer single-player team situation will be allowed to compete. In the case there is no volunteer, late arrivals and/or those that sign up late (after the customary sign-up period) may be deemed to compete as a single player team until another player becomes available or as other standard procedures dictate. After all and it's a case of no volunteering single-player team, if necessary, a random draw process will be used for the process.
After the single player team is determined, this player has the option of remaining a single player team throughout the event, or taking as a partner the first available player willing to pay the required entry fee and participate solving the issue. This decision must be made before the event begins and if the choice is to remain a one-player team, an additional entry fee is required by the "single-team player" in order to qualify for a full pay-out (in the event that the single team places in the money). Otherwise, the player is entitled to only half-payment when earning a spot on the pay-out breakdown. In other words, a "single player team" must pay the same entry required of a "two-player team" in order to qualify for the full portion of the cash payout-- if/when applicable.
In the case when a "single player team" finishes in the money and only qualifies to receive half the pay-out, the other half is submitted back to the tournament as added money to the total payout, and the distribution breakdown is then recalculated accordingly.
If the player chooses the "partner route"-- the requirement is to compete as a "single-player team" in the same way, and immediately upon availability the player must team with the first player available and/or with one of the first players eliminated and willing to pay-again the required entry fee to compete. In the case of two willing players of the first team eliminated, a flip of a coin determines the partner. Remember the player must choose which of the two routes of the procedure is desired before competition in the event begins, and please remember there are additional stipulations not yet listed here that will prohibit players from being able to work this procedure in an effort to gain an advantage in partner selection during tournaments.
During spot-in-advance events, when a single player team is concerned, the same process determining handicap procedures is used in the same manner as required during the "spot-advance" events.

Tournament Director

One of the goals of this Program is to help those interested in establishing and maintaining a weekly foosball competition in areas where there's enough interested participants to make it happen. Sometimes the Program will name a tournament director for that particular event, and/or events for that particular location. The tournament director assumes the responsibility of coordinating the tournaments scheduled for that particular location and eventually submitting the results to the headquarters as appropriate.
Other situations may be that an associate promoter for an area has been named by the Program, and this person would be in charge of managing all the promotional responsibilities for a particular area, city, or possibly statewide.
Sometimes the weekly event will be coordinated by a floating tournament director procedure. This situation delegates the tournament coordinator authority and responsibility to the highest rated player participating in that particular event. The "floating director" may pass-down the duties to someone else of their choice who's willing to carry out the task and responsibility. Usually tournament coordinating materials are left on site for this situation with instructions about were to leave the completed charts. The "floating director" procedure is used also for the situation when the appointed tournament director is absent.

Projected vs. Guaranteed Payouts:

Unless otherwise noted, all the Program's sponsored events with listed paybacks or prizes will be subject to a minimum and/or satisfactory participation requirement.
Those events that don't meet the satisfactory or minimum team requirement will potentially face restructured payback breakdowns and/or prize awards as determined by the tournament sponsor and/or a tournament director's decision. Sometimes, an automatic procedure will immediately become into action changing the tournament format process to a 100% payback of certain $$ entry fees with the possibility of cash being added.

Main Events:

Open events are always considered the main events of the Southern Foosball Program tournaments. All other events are considered specialty events. It is a top priority of our Program to coordinate matches of "specialty events" in a way that will not conflict, or hold-up, matches of open events. Matches of "open doubles" are guaranteed to take priority over all other matches. This is a goal that we constantly strive to fulfill; however, match coordination will always be strictly the directors' judgment, and it may be necessary at times to stray from the normal procedure in an effort to allow an event to run more smoothly and/or efficiently.

*I'm sorry, this section is no where near complete. There have been quite a number of standard procedures & customs and courtesies put into place during the years of this Program, most were listed in newsletters from earlier periods. It's my intention to eventually pluck them from the stack of newsletters published and eventually list them here. Hopefully, I'll get eventually to it ??.

Glossary of Terms & Language:

Ala-Amateur

is a player who lives in Alabama and/or competes regularly in the Alabama Foosball Program events and is listed in the most current edition of the Programs class point ratings as "BEGinner", "D class", "C class", "B class", or "A class". Players rated "AA class" and "AAA class" are considered Ala-Expert. Players listed TOP class will be deemed our Alabama Foosball Programs' TOP competitors. Players with extensive regional and national tour tournament experience and those consistently among the top finishing participants of the Programs' open tournaments will likely be listed in the "Class Point Ratings" with either the "AAA class" or "TOP class" rating. Those type players from other areas occasionally traveling here to participate will also be deemed "Top class" and might by listed among the Class Points Rating page as well.

Buddy System

Two Ala-Amateur rated players requesting to team together for a particular draw for partner tournament. This procedure was brought about for the situation when a pair of "not so serious" buddies/players would like to participate the foosball event but would prefer to team with their companion instead of risking being paired with a partner with more serious competitive ambitions.

Mr. Recruiter

Refers to one of the alternate participating options that is sometimes allowed during the Program's tournament events. The "Recruiter" is a experienced tournament player who voluntarily teams with a new, or recruit, player for a particular tournament event (open doubles or even a draw type event) primarily for the purpose of providing a coaching experience for the less experienced player. In this situation, it is customary for the recruit player to pay the team entry fee required for both players. The recruit player is usually a BEGinner, or D class player very interested in improving their foosball competition knowledge and skills. Players listed in the Program's ratings "Ala-amateur class" (BEGinner thru A class) may qualify as a recruit as well. The idea behind this procedure is to motivate the more experience players to "take a new player under their wing" so to speak.

BYP or DYP

Terms dictating a pair of popular foosball tournament competition playing formats: "Bring Your Partner" or "Draw Your Partner".

Next Game Challenge

The "next-game-challenge" format is simply the traditional process for walking up to a foosball table and challenging the winners of a game currently in progress to the next game. It's a long-time popular customary to be able to walk up to a foosball table with players involved playing for fun and placing your coins near the coin mechanism of the table which means that you want to be in line to participate a upcoming game.
The process comes into play nicely while players are gathering early for a foosball tournament and wanting to get a couple games warm up before the event begins. In this situation it is recommended that players compete until five points scored and then the winners rotate to the side opposite the coin-mech and allow the next in line challenger to step up to the coin-mech side of the table and begin their challenge game. Same process of only playing until a team scores five points allows rotation to happen quicker which can give more people the opportunity for warm up games.

Notification Status

Sometimes the player participation/turnout varies for certain events; therefore, some events might be listed notification status which means an announcement is circulated via group messaging methods and/or announced at [ALABAMA FOOSBALL PROGRAM ON FACEBOOK] when a potential for substantial player participation is expected and/or when someone has committed to being present for pick-up games and/or is intending to coordinate the scheduled event with enough interest.

Extended Play-off

is extended competition for teams of a specific class that once eliminated from the regular tournament, they are then pitted against each other for a single elimination play-off in order to determine the top team of that class. Sometimes cash and/or prizes are awarded accordingly.

Floating Tournament Director

The Program sometimes uses a floating tournament director procedure for a scheduled weekly tournament. This situation delegates the tournament coordinator authority and responsibility to the highest rated player participating in that particular event. The "floating director" may pass-down the duties to someone else of their choice who is willing to carry out the task and responsibility. The "floating tournament director" is responsible for coordinating the event as usual in compliance with standard procedures including submitting the charts and results to the headquarters as appropriate. The "floating director" procedure is used also for the situation when the appointed tournament director is absent.

Iron Man

is a term we use to describe a player entering a tournament to compete as a singles player team even though the event is set up for two player team competition. Since the "singles events" are sometimes scarce during the weekly tournament promotions, the Program deems the "Iron Man" concept applicable during certain "draw" and "doubles" tournament events. The Iron Man procedure is also used to solve a situation where an uneven number of players are signed up for a draw-your-partner tournament and/or for a "no-partner-available" situation. The player entering as a iron man team might be required to pay a full team entry.

Iron Man w/Spot-Advance The "Iron Man" tournament participation option is sometimes deemed allowed for "bring your partner and/or "draw your partner" tournaments with the spot'advance procedures as described on this page being implemented. Players may enter with a partner of choice, or choose to pay the team entry fee and enter alone as a single player team in the manner described in the "Iron Man" procedure. In the case where a player is competing as a "Iron Man" team, the "team rating" is determined with additional points equal to half the players class base points being combined with the points representing individual point rating. This creates the team rating needed for the handicap procedure calculation process that determines the possible spot advantage involved when the "singles team" competes against a "doubles team". Additional Note: The "team rating" for the Program's TOP class rated players will be the result of doubling their personal player rating for creating team rating in the situation as Iron Man participation. Players with certain skills playing singles, particularly those with adequate ability passing from the two-rod to the five-rod techniques, will also be subjected to the "doubling their personal player rating" process for creating team rating as Iron Man participation.
In order for a "Singles Team" to be able to claim the full portion of any prize earned during the tournament, the "Singles Team" must have paid, in advance, the team entry. In other words, a "Singles Team" player must pay the team entry fee which would be double that required of a player of a "doubles team" in order to be eligible for 100% of whatever prize to be awarded according to the final finish in the tournament. Note: If/when a "Singles Team" player is allowed to compete without fulfilling the double-entry-fee requirement, the "singles team" player will then be eligible for only half the applicable award as deemed according to the finish. In this case, the other half of the prize would be re-distributed accordingly, and as if that amount had been added to the total tournament prize. It is necessary and very important that the "singles team" player makes the declaration of which intent prior to competition's start.


Seeding the tournament chart

During tournaments where the amount of entry fee required per team varies among the players according to their rating status, the tournament chart is usually seeded. This arrangement spaces out the top rated teams, who probably had to pay substantially more entry fee, on the chart so the potential is created that the top rated teams will not have to face each other until necessary during the latter portion of the tournament.

Rule Violation Protection

During the Programs' tournament events we will allow a protection circumstance for rule violations committed by players with limited tournament experience and for those who are not yet accustomed to playing by the official rules of play. The spirit of this "rule violation protection procedure" is to allow new players some flexibility when it comes to the rules while participating in the Programs tournaments. In other words, we don't want to discourage new players from participating our tournament events simply because they are unfamiliar with the rules of play that we usually abide, or perhaps their style of play may conflict a simple rule or two. There's no need to bombard a new player with a bunch of can't do! and can do! lectures during tournament play. Simply allow protected players to play the game the way that they are accustomed to playing. Meanwhile and hopefully, they will continue to show up with interest participating and that's when, during the more relaxed pick-up-play game situations, we can gradually introduce and teach them the standard rules of play. During this protection period, the only playing violations that are grounds for stopping play during tournaments would be for: jarring the table, and/or continuous uncontrolled spinning the rods. Experienced players should be ready to combat any other situation that the protected player is able to create.

Foos-Frenzy events

For those situations: "You love to play foosball but you don't want to play with/against all those Pro's". How about a FOOS-FRENZY?, where you can show up with or without your foosball-friends at the start of any of our scheduled foosball tournaments and, with enough interest and persons willing to participate, a foosball tournament will be coordinated for the "casual-type" foosball players present. With at least three eligible players or more participation, a singles tournament will be coordinated. Or, with at least six players or more, a draw-your-partner tournament will be coordinated. Double elimination bracket play-off will start immediately with one-game played determining the advancement through the bracket and eventually creating a Foosball Frenzy tournament winner and bragging rights to go with it.  No tournament entry fee is involved and the first place winners will be awarded the Alabama Foosball Program certificate of achievement.  Participants eligible are only casual foosball players and those of the Ala-Amateur class rating system with a BEGinner, D class, or C class status.

Trooper Group

This describes a particular group of players listed in the Southern Foosball Program's "class-point ratings" A/5 through AA/9. Competition is sometimes scheduled for this group which allows all players listed and rated below AA/9 eligible to participate. Sometimes reffered to as a "Ala-Expert" player group.
*Obviously, this info is not yet complete. Hopefully, I will get to it soon! Sorry

For information on foosball competition in the Southeastern USA, you should bookmark this web site before leaving and visit it regularly for updates. Information is added periodically.
---
[HOME]
[CLASS POINT RATINGS]
[TOURNAMENTS]
[RESULTS]
[TABLES FORSALE]
Direct your questions or comments to the Southern Foosball Program/Tornado of Alabama/Rodney Jenkins at Ala_Foos@yahoo.com.