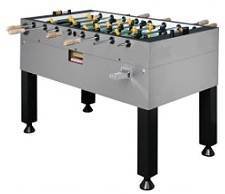 USED FOOSBALL TABLES
& PARTS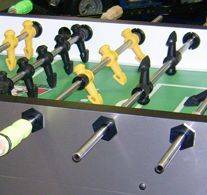 Used coin-operated and home-model foosball tables are sometimes available, some with minimum-use and some with extended-use. They can range in price from $695 up to $1,595.
At this time, 12-1-2015, I have a limited selection of used tables available. Most are in great condition but would come to you fresh off location and would probably need a good cleaning. Below, I have listed a collection of links to pictures of the actual tables available and/or sometimes a photo as representation. Coin-ops are often used as home-models since they can be easily set up to operate on free-play.
The Southern Foosball Program occasionally uses new coin-operated foosball tables for tournament competition. Sometimes, these tournament-used foosball tables are available forsale after a weekend of use.
Contact Tornado of Alabama /Rodney Jenkins for availability of these and other [NEW] or used foosball tables forsale. Follow links included below, I will leave a few already sold links listed as well to give an idea of the tables that I periodically might have available. If marked unavailable, it probably means the table has been put on location and now being used in some way.
[USED TABLES] [USED PARTS] [BUY NOW!-TERMS OF SALE]
---
USED TABLES *See links below:
#12 Tornado coin-op w/ice-box laminate color...$995
nice playing table but the cabinet has nasty scratches & damage. See more: [photo #2] [3] [4].

#2 Storm home model w/grey color laminate...$425 ...
Used Tornado Storm homemodel table with issues. See more: [photo #2] [3].

-----------------------------------------------------------------------------
-------------------[NOT AVAILABLE AT THIS TIME]-------------------

#30 Tornado 3000 coin-op Platinum Tour Edition...$1,545 ...[NOT AVAIL]
Near new "one-time tournament used", see: [photo #2]
Only two available at this time.

#29 Tornado coin-op w/grey marble color...$1,095 ...[NOT AVAIL]
See more: [photo #2] [3].

#5 Tornado coin-op w/stainless steel color...$1,395 ...[NOT AVAIL]
Nice used coin-op with stainless steel look laminate finish, see: [photo #2]

#8 TP-2000/HM w/brown marble color ...[NOT AVAIL]
Classic Tornado production. It's the early commercial time-play model--very nice table!
See additional: [photo #2] [3].

#34 Tornado coin-op w/grey marble color...$1,250 ...[SOLD]
see additional photos of this particular table: [photo #2] [3].

#93 Tornado coin-op w/light color oak wood laminate...$745 ...[SOLD]
See more: [photo #2] [3] [4]

#71 Tornado coin-op w/grey marble color...$1,250 ...[SOLD]

#68 Tornado coin-op w/cherry wood color...$1,095 ...[SOLD]

#6 Near new! Cyclone ...$845 ...[SOLD]
Very nice "top-of-the-line" homemodel table.
---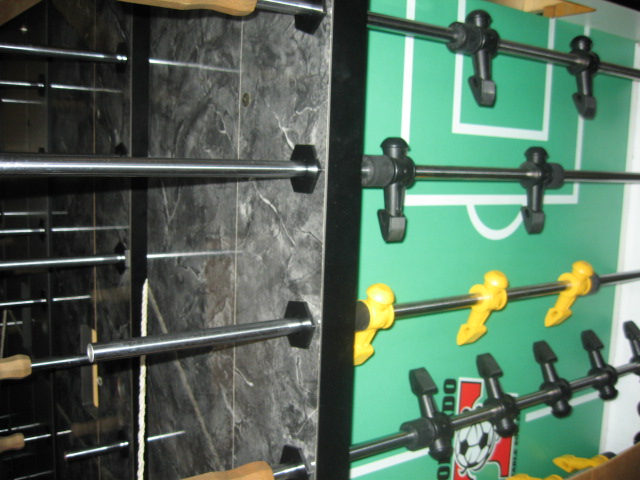 Coin-op Packaging ...$25
The new coin-op comes packaged in two boxes. Used tables purchased to be shipped via freight carrier can be packaged in the same way, there is a $25 service charge.
Owners' Accessory Kit...$39.50
When purchasing a used table it's a good idea to have a spare parts kit.
For new table sales, go: Tornado of Alabama (256) 734-6349
--------------------------------------------------------

Buy Now! Click here for information about placing an order:

Thank You!
Rodney jenkins@southernfoosball.com (256)734-6349
---
USED PARTS
I also have good "used" parts available
Sometimes parts become questionable or un-satisfactory for the high-level tournament players during competition. When I replace parts like these, and if the defects are questionable, I usually throw parts like these into a box and sell them as used parts at a reduced price (sometimes 1/2 price). Here's a list of such parts, as well as, other used parts that I have available for sell to those that might be interested in parts at bargain prices.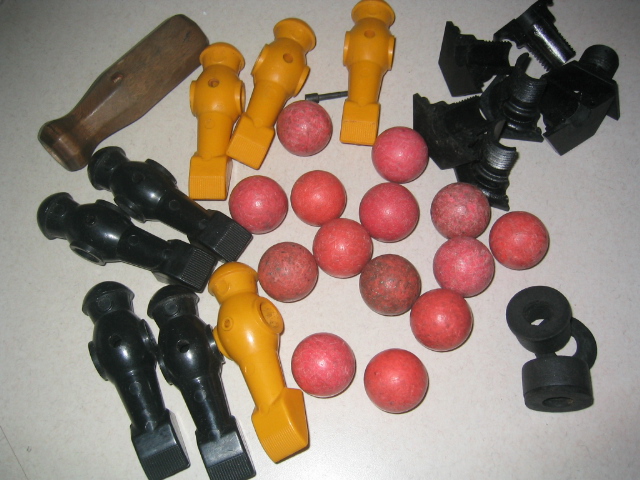 USED BALLS - Current Tornado balls $1.50 ea.
PLAYER FIGURES - Tornado player figures $3.00 each.
USED RODS - $25.00 each. ...(When available!)
USED SPLIT BEARINGS - $2.00 each
USED HANDLES - $3.00 each.
USED PLAYFIELD - $89.00
GAME COUNTER - $15.00
NEW BLACKLIGHT BALLS - $5.00ea.

OLD STYLE PARTS:
USED BALLS - I have the pink hard balls used in the 80's & early 90's -50 cents each.
BUMPERS - The old cushons with washers for $1.00 each.
OLD BEARINGS & NUTS - One set of old-style bearings w/nuts $1.00 each.


---
[TORNADO OF ALABAMA]
[NEW PARTS]
[TERMS OF SALE]
[SOUTHERN FOOSBALL PROGRAM]
[ALABAMA FOOSBALL PROGRAM]
Direct your questions or comments to the Southern Foosball Program/Rodney Jenkins at (256) 734-6349, or by email: jenkins@southernfoosball.com.