TOURNAMENT INFORMATION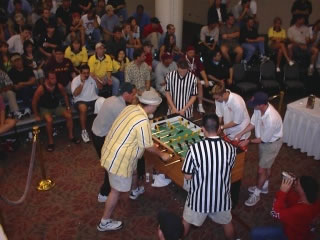 Listed below is links to foosball tournament information that might be of potential interest to the foosball players that participate this Program. Included might be local weekly tournaments in various areas of Southeastern U.S. along with occasional tournaments presented by the Southern Foosball Program and similar promotional organizations. Also, find links to future Tour Tournament information like the action pictured on the right which was taken during the finals of the $30,000 Super Doubles Spectacular held in Austin,Texas in 2001. Another example might be information about a $135,000 World Championships presented annually by the United States Table Soccer Association (U.S.T.S.A.).
Use the quick-links provided near here to quickly jump to preferred information. Please keep in mind that submitted information might be included; therefore, legitimacy and accuracy will be dependant. Persons should ultimately contact someone in-the-know about a particular event for guaranteed accurate information. This tournament information is subject to change at any time and updates are sometimes added daily--
CHECK BACK OFTEN!

Local Programs, tournaments EVERY WEEK:

Southern Foosball Program:

Tour tournaments, Regional, National, & International:

Foosball Tournaments:

2008
February 9th 2008 North Alabama Open ... in Cullman,AL.


*No new Southern Foosball Program tournaments listed at this time.

1-1-06
Due to priority family reasons, I will be taking a "time-out" with respect to my foosball promotional efforts and my competition involvement for a undetermined period of time. My best wishes to everyone while I'm away and hopefully I'll return one day to continue promoting and playing foosball again. Meanwhile, certain information usually highlighted at this Southern Foosball Program site might become somewhat unattended. I'll try and leave the site up for as long as I can afford it for those interested in visiting for it's history content.
Sorry, ...Rodney Jenkins

---

**BE SURE TO CHECK BACK OFTEN!
Updates and new information is sometimes posted daily.

TOURNAMENT RESULTS: [2006] [2005] [2004] [2003] [2002] [2001] [2000] [1999] [1998] [1997] [1996] [1995] [1991] [1990]




[FOOSBALL TABLES FORSALE] [PARTS] [FOOS-GEAR & APPAREL] [TERMS OF SALE]
[SOUTHERN FOOSBALL PROGRAM] [ALABAMA FOOSBALL PROGRAM] [SPONSORS]

Direct your questions or comments to the Southern Foosball Program/Rodney Jenkins at (256) 734-6349, or by email: jenkins@hiwaay.net.