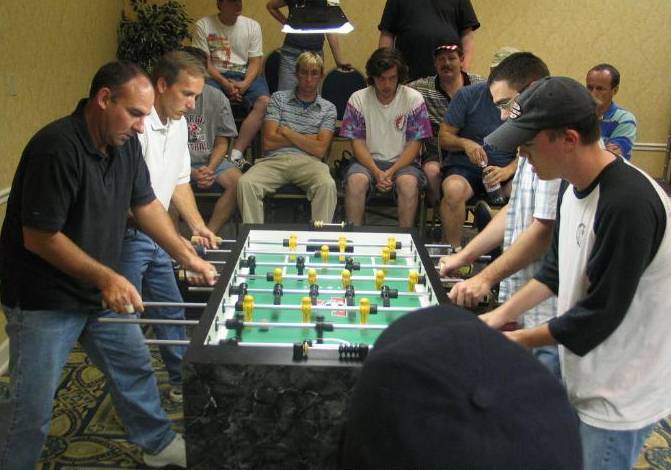 One of the "hottest" players on Tour in 2004 is Billy Pappas, he is pictured teamed with Brandon Moreland and in the middle of action during the finals of open doubles at Kentucky State. The opponents are on left, Rodney Jenkins & Billy Caylor.
SOUTHERN FOOSBALL PROGRAM RESULTS IN 2006:
[REGIONAL RESULTS]
[TOP MONEY WINNERS]
[RESULTS OF 2005]
[UPCOMING TOURNAMENTS]
[LOCAL EVERY WEEK TOURNAMENTS & RESULTS]

$2,000 Alabama State Championships 2006
December 29-31st, 2006..... in Cullman,AL.

See the complete [NEWS], [RESULTS], & [PICTURES].
$1,600 Rocket City Foosbash
August 25th & 26th 2006..... in Huntsville, Alabama
Open Draw Your Partners

1st - James Porter & Stoney Gallagher
2nd - Vernon Pearson & John Smith
3rd - David Burnett & Chuck Shikle
4th - David Hobson & Brad Hudson

Rookie Singles


1st - Nick Peterson
2nd - Stoney Gallagher
3rd - Stephen Darby
4th - Chuck Shikle

Under-Pro Doubles


1st - Tom Miles & Toby Sullivan
2nd - Vernon Pearson & Dale Oberhausen
3rd - David Hobson & David Phillips
4th - Robert Owen & Nick Peterson

Open Singles


1st - Jim Wiggs
2nd - Steve Dodgen
3rd - James Porter
4th - David Chancey

Rookie Doubles


1st - Tom Miles & Toby Sullivan
2nd - Stephen Darby & Billy Miller
3rd - Robert Owen & Nick Peterson
4th - Stoney Gallagher & Mike Dates

Open Doubles

1st - Rodney Jenkins & Billy Caylor
2nd - Tom Miles & Toby Sullivan
3rd - David Hobson & David Phillips
4th - Jim Wiggs & James Porter
5/6th - Dale Oberhausen & Vernon Pearson
5/6th - Ken Williams & Kenny Reeves
$1,000 Dixie "Bad Boy" Open 2006
March 17th & 18th..... in Cullman, Alabama
Most Outstanding Players

Dixie "Bad Boy" - Rodney Jenkins
Trooper "Bad Boy" - David Bagwell


Forward Shootout


1st - Rodney Jenkins
2nd - David Bagwell
3rd - Nick Peterson
4th - Randy Parker

Open Draw


1st - Rodney Jenkins & Steve Dodgen
2nd - David Bagwell & Randy Parker
3rd - David Hobson & Dale Oberhausen
4th - Dale Moore & Josh Parker

Open Singles


1st - Steve Dodgen
2nd - Jim Wiggs
3rd - Vernon Pearson
4th - Steve Perry

Open Doubles

1st - Rodney Jenkins & Billy Caylor
2nd - Jim Wiggs & David Hobson
3rd - David Bagwell & Dale Moore
4th - Steve Dodgen & Randy Parker


Goalie Wars


1st - Dale Moore
2nd - Nick Peterson
3rd - David Bagwell
$600 North Alabama Open
Saturday Feb. 25th 2006..... in Cullman,AL.


Open Singles

1st - Rodney Jenkins
2nd - David Bagwell
3rd - Randy Parker
4th - James Porter

Open Draw

1st - David Bagwell & James Porter
2nd - Steve Dodgen & Dale Oberhausen
3rd - Dale Moore & Nick Peterson
4th - Robert Owen & David Burnett

Open Doubles

1st - Rodney Jenkins & Randy Parker
2nd - Steve Dodgen & Mickey Munger
3rd - Jim Eubank & Mike Camp
4th - David Burnett & Mike Hudson


TOURNAMENT RESULTS:
[2005]
[2004]
[2003]
[2002]
[2001]
[2000]
[1999]
[1998]
[1997]
[1996]
[1995]
[1991]
[1990]
[FOOSBALL TABLES FORSALE]
[PARTS]
[FOOS-GEAR & APPAREL]
[TERMS OF SALE]
[SOUTHERN FOOSBALL PROGRAM]
[ALABAMA FOOSBALL PROGRAM]
[SPONSORS]