Tornado Table Soccer - Elite
is a product of VALLEY-DYNAMO,L.P.. With over 30 years as a manufacturer of high-quality recreational products, Tornado brings explosive excitement home with a line of rugged, carefully crafted foosball table games. Professional-caliber and built to last, each table in Tornado's line of foosball games combine all the features and speed the players want with classy good looks that will make them a welcome addition to any home decor. Regardless of which one you choose, you'll be making a great investment in a superior home recreation product that will deliver fast-paced fun for many years to come.
[PARTS] ... [ELITE] ... [CLASSIC] ... [SPORT] ... [WORTHINGTON] ... [TOURNAMENT 3000] ... [COIN-OP] ... [USED TABLES]
[BUY NOW!-TERMS OF SALE]
---
<!—Tornado Elite Picture-->

Tornado Elite -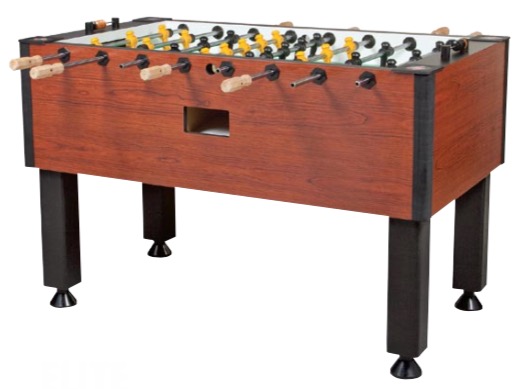 Length ..... 56"
Width ..... 30"
Height ..... 36"
Weight ..... 225 lbs.
This high quality home foosball table is designed like those used by the pros. The Tornado Elite table is U.S.A. built and is a commercial-capable grade product tough enough to handle even the most extreme competition. It comes packed with all the high quality Tornado features:
Shipping may, or may not, be included with the prices listed. Please contact me directly via email: jenkins@southernfoosball.com, or by phone: Rodney Jenkins (256) 734-6349, for availability and total pricing. Thanks!
A lavishly detailed beautiful Victorian Cherry laminate finish, on a hand-crafted MDF wood cabinet, ideal to match your home décor.
Rigid and durable down corner construction with 1.5 inch thick sidewalls along with a precisely marked high pressure laminated play-field, also supported by 3/4 inch MDF, provides maximum stability during heavy use.
Whip Shot goal box delivers a rushing, full-impact sensation when a goal is scored and the dual side ball-returns deliver quick access to the ball after a score.
Double-bolted 4"x4" solid legs with levelers provide maximum stability and allow you to level from all four corners of the table precisely and with ease.
Octagonal shaped commercial-quality solid wood handles on chrome-plated centerless-ground heavy gauge rods allow you to feel the player-figures' position without taking your eyes away from the game.
Tornado three-man goalie rod promotes advanced offensive techniques while the patented Tornado bumpers provide maximum cushion for aggressive play.
Patented Tornado player-figures are counter-balanced which allows an un-grasped handle to be positioned without interference during a goalie wars or singles type game.
Patented foot designed player-figures along with the also patented precision-ground urethane balls help the Tornado table deliver superior ball control.
Patented split-bearings not only enhance owner-friendly maintenance but are also partly responsible for the outstanding playing characteristics of the Tornado table delivering an ultimately smooth and effortless rod glide.
Visually discrete expansion pins attach the player-figures and the handles to the rods.
Game-to-five-point score counting assemblies are included with the traditional wooden discs.
---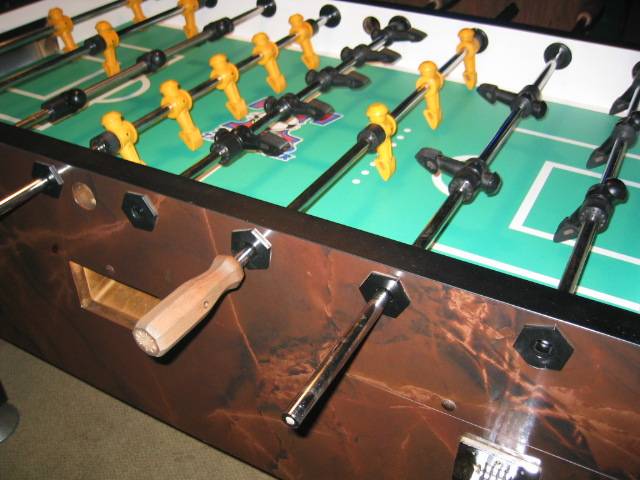 USED FOOSBALL TABLES
are sometimes available:
$795 & up!

---
Buy Now! Click here for information about placing an order:

Thank You!
Rodney jenkins@southernfoosball.com (256)734-6349
---
If necessary, shipping is available. While the shipping rate for shipping one table to areas surrounding the state of Alabama usually ranges somewhere between $100-$175, you should submit your receiving address, city & zip code, for an accurate quote. I use ABF Freight Systems,Inc. where I can qualify you for a substantial discount on the normal rate. The table would ship from Cullman, Alabama 35055. Products picked-up and purchased locally will be subject to the local sales tax.
[TORNADO OF ALABAMA]
[PARTS]
[TERMS OF SALE]
[SOUTHERN FOOSBALL PROGRAM]
[ALABAMA FOOSBALL PROGRAM]
Direct your order, questions, or comments to Tornado of Alabama/Rodney Jenkins via email: jenkins@southernfoosball.com, or by phone (256) 734-6349.