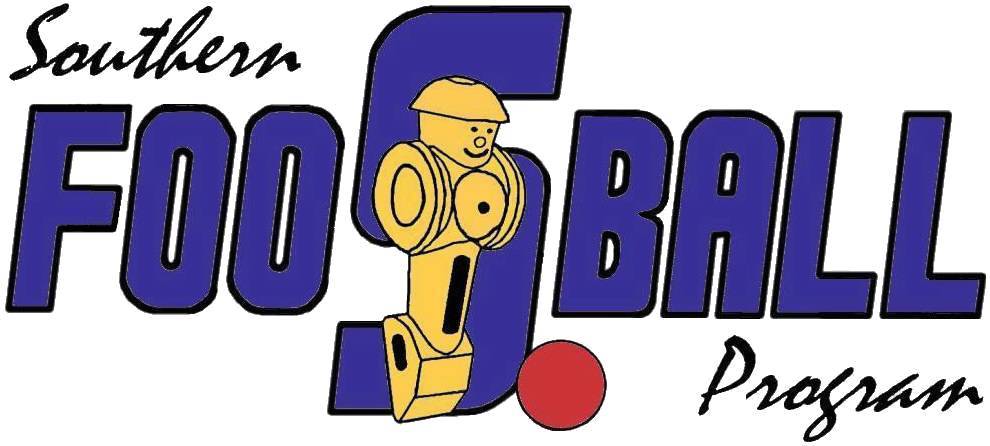 Presents the $3,000
ROOKIE & SEMI PRO
REGIONAL CHAMPIONSHIPS
For this year 2003, the Southern Foosball Program presents the Regional Championships of foosball competition primarily for those players ranked "Rookie" or "Semi-Pro" within the United States Table Soccer Association. Additional information is included below outlining other stipulations concerning eligibility. The event is to be held during the weekend of May 9th - 11th at "FAT CAT'S FUN, FOOD, & SPIRITS" located at 2523 Veterans Memorial Hwy., in Austell, Georgia. Prizes to be awarded during the event, along with cash, is estimated to reach a value close to $3,000. In an effort not to totally leave out the local professional players, the Program has included a Georgia Domination event which can serve as a chance for recognition and possibly a shift in bragging rights among the local elite foosball enthusiasts.
"ROOKIE/SEMI-PRO DOUBLES" is the main event of the weekend and all eligible are welcome and invited to participate. Those that register for the main event will then be qualified to enter and compete for regional titles in the other specialty events that will be presented during the weekend. Players may register at anytime during the weekend for the main event and then any other of the nine specialty events that they are qualified to play. The current United States Table Soccer Association ratings will be used to dictate a players eligibility. Unrated players will be allowed to enter and compete as rookie. If you would like to receive in the mail a paper version of this flyer, forward a note and your postal address to jenkins@hiwaay.net.
[POSTER] [OTHER CHAMPIONSHIP RESULTS]

---
EVENTS & PRIZE BREAKDOWN
| | | | |
| --- | --- | --- | --- |
| | ROOKIE/SEMI-PRO DOUBLES | | |
| | SEMI-PRO DOUBLES | & | SINGLES |
| | ROOKIE DOUBLES | & | SINGLES |
| | DRAW FOR PARTNERS | & | MIXED |
FORWARD SHOOTOUT
GOALIE WARS
1st - 100%
2nd - payback of
3rd - $5 entry fees

---
ENTRY FEES PER PLAYER


Rookie
/
Semi-Pro
RK/SP Doubles
....$35
/
....$35
Mixed Doubles
....$15
/
....$15
Semi Pro Doubles
....$10
/
....$15
Semi Pro Singles
....$10
/
....$15
Rookie Doubles
....$10
Rookie Singles
....$10
---
SCHEDULE OF EVENTS
| | | |
| --- | --- | --- |
| FRIDAY | 8 PM | Forward Shoot-out (RK/SP) |
---
FOR YOUR INFORMATION
Rookie/Semi-Pro Doubles is the main event of the weekend and entry is required by all to be eligible to compete in any other events offered. Sorry, no exceptions!
A tournament administration fee will be required of all players entering an event-- $15 per event, or $25 for all. The administration fee applies to anyone using the free play tournament tables during the weekend! Tournament tables may be available forsale after the tournament, contact "Tornado of Alabama".
Primarily, USTSA ratings will be observed for determining eligibility for the various events. New and not-rated players will be eligible to compete as "rookie".
The following stipulations will be implemented for the main event competition: Eligible teams are made up of two players, a "semi-pro" and a "rookie". Two "rookie players" will be allowed to team together. A "pro" female player will be allowed to compete as a "semi-pro" during the weekend and will be allowed to team with another "semi-pro female player" for the main event. Additional "not-listed" stipulations may also apply or be adopted, but only with good reason and as determined by the tournament director.
Official rules of the United States Table Soccer Association as well as those adopted by the Southern Foosball Program will be observed, and the tournament directors' decision on all matters is final!
Unsportsmanlike conduct will not be tolerated!
First through third place achievement certificates, or possibly trophies, will be awarded in all events.
With satisfactory participaion, customized Regional Championship Jackets will be awarded to the 1st place winners of SS, SD, RS, RD, the female of Mixed Doubles, & possibly to a participant of "Georgia Domination". Five dollars per participant of the entry fee to these events could be held back to go towards the cost of the jackets. Winners are eligible for only one jacket representing all championship titles earned during the weekend of events. For any otherwise title holders interested, championship jackets are available for purchase.
Pay-outs are guaranteed by the Southern Foosball Program and will be paid in full according to the printed breakdown; however, events of less than 8-16 teams participation may/could be cancelled. In the case of overages, prize money may be increased and/or places added.
Registration and sign-up begins 30 minutes before an event is scheduled to begin and will close no sooner than 15 minutes past. Don't miss out!
The main event matches take priority over all other events; however, match coordination will be strictly the directors judgment.
For those interested in participating in the Georgia Domination no administration fee will be necessary. A coin accepting table will be used for this singles competition where two players will start the competition by playing a game of foosball and the winner will be allowed to stay on the table and except the next challenger. The challenger is required to submit $5 to the "keeper of the table" prior to their challange game. The initial challenging order is randomly determined, but then participants can put their name on the list for another turn to challenge and possibly become the "Georgia Dominator".
For more information: Call or contact the Southern Foosball Program/Rodney Jenkins (256) 734-6349 between 8am & 9pm central time, or email anytime jenkins@hiwaay.net.
---
The host facility is located at 2523 Veteran Memorial Highway, in Austell, Georgia. "FAT CAT'S FUN, FOOD, & SPIRITS" serves a wide variety of great food & beverages. The location offers billiards, pinball, video games, and all your favorite activities. The phone number is (678) 945-5255. --Questions about the state tournament should be directed to Rodney(256)734-6349.
Contact the location for rules concerning under-age admittance!
Directions:
* Travel Interstate 20 just west of Atlanta and exit at the Thornton Rd. exit. Turn north and travel approximately one mile to the intersection of Bankhead Hwy., turn right. Travel maybe another mile and "FAT CAT'S is on the right.
Hotel:
*Knights Inn, 1595 Blairs Bridge Road, Austell
phone (770)944-0824.

---
[FOOSBALL TABLES FORSALE]
[PARTS]
[FOOS-GEAR & APPAREL]
[TERMS OF SALE]
[SOUTHERN FOOSBALL PROGRAM]
[ALABAMA FOOSBALL PROGRAM]
[SPONSORS]
Direct your questions or comments to the Southern Foosball Program/Rodney Jenkins at (256) 734-6349, or by email: jenkins@hiwaay.net.