OBITUARY FOR SONNY (ED) MCCLOUD
.....founder of Tornado Table Soccer foosball table
Sonny (Ed) McCloud, age 80, of Greenwood, Arkansas, went to meet his Lord and Savior, Jesus Christ, on December 6, 2020, in Little Rock, Arkansas, due to complications from Covid-19.
Sonny was the President of McCloud Regional Inc. and Regional owner of the Fantastic SamsÕs Arkansas region. President of McCloud Investment Corp. and owner of 3 Fantastic SamÕs hair salon franchises in Ft. Smith and Greenwood, Arkansas.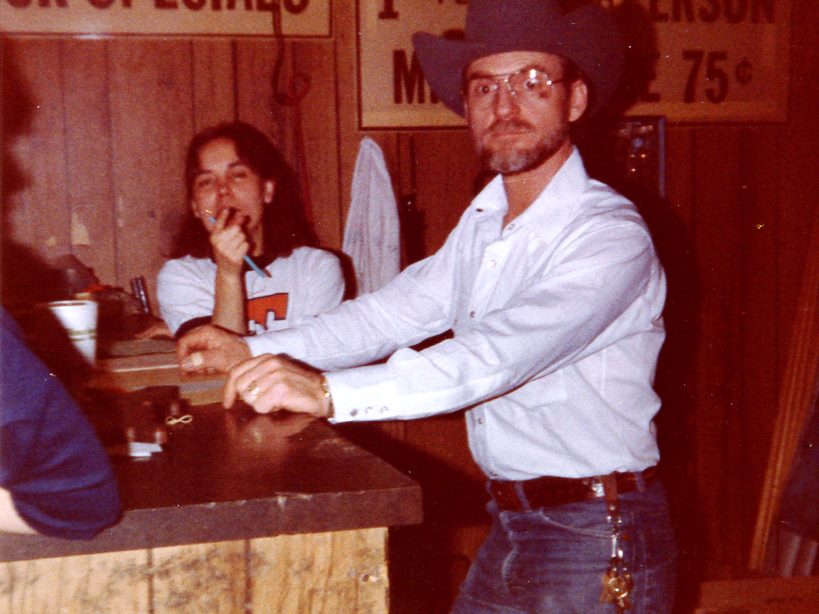 In 1977-1996 McCloud was the President/Owner Tornado Table Soccer, Inc. in Ft. Worth, Texas
-President/Owner Tornado Promotions, Inc.
-Chairman of the board, United States Table Soccer Association
-Promoter of $600,000.00 per year in Tornado sponsored events
-Organizer of Tornado International Table Soccer Players Association 1983
-Organized the classification system for the sport of Table Soccer
-Responsible for over 40 unique features currently utilized in the Tornado Soccer table
-National "Coin Man of the Month", Playmeter magazine, March, 1985
1977-1978 Vice President Tornado Table Soccer, Inc. In charge of production and design of itÕs Tornado Table soccer vending machine, purchased company.
1973-1978 Professor of Manufacturing Processes, Residential Construction, and welding-East field Community College in Dallas Texas
1973-1976 Industrial Engineer and Plant Manager of Dynamo Corporation in Grand Prairie, Texas
1972-1973 Instructor of Wood Shop and Power Mechanics at South Garland High School in Garland Texas
1968-69 He attended El Centro Junior College, Dallas, Texas Bachelor of Science, Industrial Arts/Secondary Education North Texas State University, Denton Texas
1970-71 Owner, Designer and former manufacturer of the highest performing foosball table in the world. Responsible for more tables produced than anyone else in the US. Took a company $280,000 in debt and built it to a multi-million-dollar company.
Owner, Dynamic Personnel, Dallas, Texas 1967-68
He held several US Design Patent 276631, US Patents: 4,382,598, 5,058,892, 5,0171,137, 5,240,250, 5,333,864, 5,419,555. All patents were sold with other assets of Tornado Table Soccer to Valley Recreational Products in 1996.
Army National Guard 1956-59
United States Air Force 1959-1967
Awards include: Carbean Marksmanship Award, basic training, San Antonio, Texas
1959 Sac Air Police Pistol Team, youngest member,
1961-62 Marksmanship Instructor in Germany,
1962-66 European Champion Pistol Team, coach, top shooter, winners World Wide competition,
1964-65 Airman of the quarter Rhein-Main Air Force Base, Germany,
1965 Distinguished Master Pistol Shot, 140th in the world, Germany,
1965 General Carl Spaatz Trophy, at Nationals United States Air Force Outstanding Service Pistol Team Shooter, US Nationals, Camp Prairie, Ohio
1966 WhoÕs Who among Students in American Junior colleges Student Advisory Council,
DeanÕs List, Secretary-Treasurer, Kappa Epsilon Fraternity, El Centro Junior College, Dallas, Texas,
1968-69 Sectional Field Championships, National Field Archery Association, 1st Place, "B" class, free style, Longview, Texas,
1973 Other achievements: Wooden Chandelier, designed, hand-crafted, only known student exhibit hanging in the Industrial Arts building, North Texas State University, Denton, Texas,
1971 Designed, Built, Landscaped own 3400 square foot home, Dallas, Texas, 1973
Inducted into the "Foosball Hall of Fame" 1997
He is survived by his Wife, Brenda McCloud, of Greenwood, Arkansas, Daughters, Angelique McCloud of Frisco, Texas, Brittany Smith, of Fort Smith, Arkansas, Charlotte Smith, of St. Clair, Missouri, Granddaughter, Ravin Phipps, 3 Grandsons, AJ. Phipps, Nicholas Startzman, and Ayden Startzman.
In lieu of flowers, the family request donations be made to the Arkansas AlzheimerÕs Association.
---
.....Persons in the photo are of Ed & Brenda McCloud in 1982. The photos used are from Leigh OÕQuinnÕs "classic collection" of 1980Õs foosball tournament action.
Direct your questions or comments to the Southern Foosball Program/Rodney Jenkins at (256) 734-6349, or by email: jenkins@southernfoosball.com.
[SOUTHERN FOOSBALL PROGRAM]