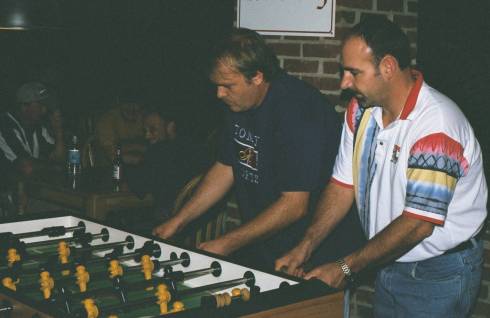 Presenting the $3,000
ALABAMA STATE
CHAMPIONSHIPS OF FOOSBALL
The Fourteenth Annual Alabama State Championships of foosball is planned for the weekend of November 2nd, 3rd, and 4th 2001. The event is to be held at The Break Restaurant & Billiards located at 1001 20th Street South, in the heart of the most popular area night life in the city of Birmingham, Alabama-- known locally as "Five-points South". Prizes to be awarded during the event, along with guaranteed cash, is worth more than $3,000. Open Doubles is the main event of the weekend and all are welcome and invited to participate. Those that register for the open doubles event will then be qualified to enter and compete for state titles in the other specialty events that will be presented during the weekend. Players may register at anytime during the weekend for open doubles along with any other of the twelve specialty events that they are qualified to play.
This event is being presented and sponsored by the Southern Foosball Program.
[DEFENDING STATE CHAMPS]
---
EVENTS & PRIZE BREAKDOWN
| | | | |
| --- | --- | --- | --- |
| | OPEN DOUBLES | & | SINGLES |
| | SEMI-PRO DOUBLES | & | SINGLES |
| | ROOKIE DOUBLES | & | SINGLES |
OPEN MIXED DOUBLES
OPEN DRAW FOR PARTNERS
3500pt. LIMITED DOUBLES
1st - 100%
2nd - payback of
3rd - $10 entry fees

FORWARD SHOOTOUT
GOALIE WARS
WOMENS DOUBLES & SINGLES
1st - 100%
2nd - payback of
3rd - $5 entry fees

---
ENTRY FEES PER PLAYER


Rookie
/
Semi-Pro
/
Pro
/
Pro-Master
Open Doubles
....$20
/
....$30
/
....$35
/
....$40
Open Singles
....$10
/
....$20
/
....$25
/
....$25
Semi Pro Doubles
....$10
/
....$15
Semi Pro Singles
....$10
/
....$15
Rookie Doubles
....$5
Rookie Singles
....$5
---
SCHEDULE OF EVENTS
| | | |
| --- | --- | --- |
| FRIDAY | 7 PM | Forward Shoot-out |
---
FOR YOUR INFORMATION
Open Doubles is the main event of the weekend and entry is required by all to be eligible to compete in any other event offered!
A one-time table-use/tournament administration fee of $25 will be required of all players entering an event or using the free-play foosball tables.
When applicable, the Programs' Class-Point Ratings will be used to determine a player's eligibility to compete in the various events offered; otherwise, USTSA ratings will be observed. New and not-rated players are eligible to compete as "rookie" (1100 points).
Official rules of the United States Table Soccer Association as well as those adapted by the Southern Foosball Program will be observed, and the tournament directors' decision on all matters is final! Unsportsmanlike conduct will not be tolerated!
First through third place trophies or certificates will be awarded in all events, as well as, to the top placing rookies and semi pros in open doubles & singles.
With satisfactory participation customized State Championship Jackets will be awarded to the 1st place winners of OS, OD, SS, SD, RS, RD & the female of Open Mixed Doubles. Winners are eligible for one jacket representing all championship titles earned during the weekend of events.
Cash is awarded to the top-finishing rookie team in open doubles: $100 top-rookie cash.
Pay-outs are guaranteed by the Southern Foosball Program and will be paid in full according to the printed breakdown; however, events of less than 8-16 teams participation may/could be cancelled. In the case of overages, prize money may be increased and/or places added.
Registration and sign-up begins 30 minutes before an event is scheduled to begin and will close shortly after. Don't miss out!
Open event matches take priority over all other events, however, match coordination will be strictly the directors judgment.
For more information: Call or contact the Southern Foosball Program/Rodney Jenkins (256) 734-6349 between 8am & 9pm central time, or email anytime jenkins@hiwaay.net.
---
ABOUT THE HOST
The host facility will have a wide variety of food as well as alcoholic beverages. The Break Restaurant & Billiards is located at 1001 20th Street South in Birmingham. The phone number is (205)252-3779 --Questions about the tournament should be directed to Rodney(256)734-6349.
All ages will be eligible to participate, but those under 18 must be accompanied by an adult.


Directions:
* Exit Interstate 20/59 near the downtown area of Birmingham (just east of the Interstate 65 intersection) onto Hwy 280 East (Caraway Blvd., Hwy 31, & Hwy 280 East Exit). Travel approx. half a mile and exit at 8th Avenue South and turn right. Travel to 20th Steet and turn left. The Break is located a couple blocks up the hill on the left.
* If you're traveling from south of Birmingham on Interstate 65, you should exit at 8th Avenue South, turn right and follow to 20th Street, turn right. Location is a couple blocks on the left.


Hotel:
* The most convenient is PICK WICK HOTEL, located just outside the front door of the tournament room: (800) 255-7304. This has been the players choice; however, it's most expensive and it usually fills up before the tournament. You should reserve early. There are several more hotels in the area which are less expensive.
At www.pickwickhotel.com you can access a map to the hotel which would direct you also to the tournament location.
---
[HOME]
[ABOUT THE PROGRAM]
[CLASS POINT RATINGS]
[TABLES FOR SALE]
[SPONSORS]
Direct your questions or comments to the Southern Foosball Program/Rodney Jenkins at (256) 734-6349, or by email: jenkins@hiwaay.net.