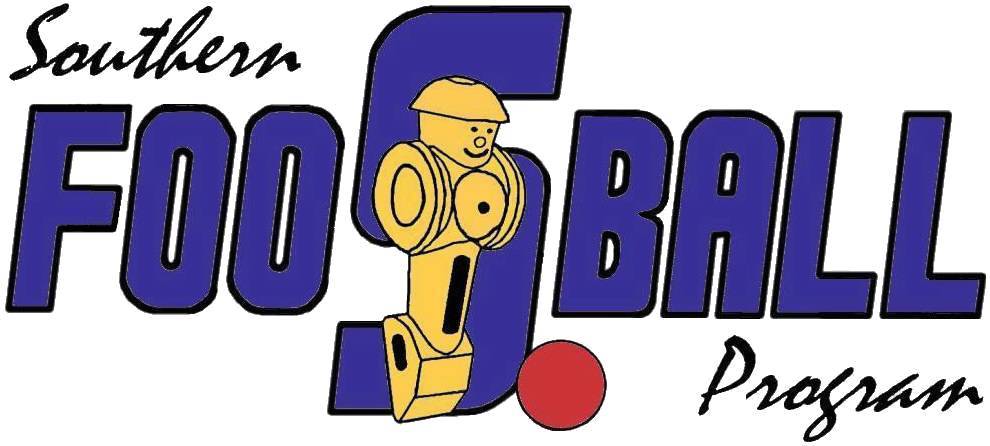 ALABAMA STATE
CHAMPIONSHIPS OF FOOSBALL
The 2011 Alabama State Championships of foosball tournament is planned for the weekend of November 4th and 5th. Tom Farley and his "Rocket City Foosball Program" is sponsoring and presenting the event to be held at Suds Bar & Grill located in the city of Madison, Alabama which is in the northern most portion of the state.

Prizes to be awarded during the event, along with guaranteed cash and entry pay-back money is estimated to reach a value well beyond $2,000.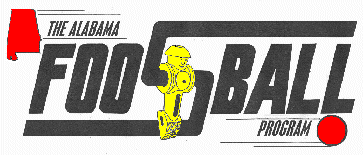 Open Doubles will be deemed the main event of the weekend and all are welcome and invited to participate. Those that register for the open doubles contest will then be qualified to enter and compete for state titles in other specialty events to be presented throughout the weekend. Players may register at anytime during the weekend for open doubles and then any other of the specialty events that they are eligible to play. IFP rankings will be observed.
See the additional information below and/or contact Tom Farley (256) 682-4768, or email Rocket City Foosball.
[DEFENDING STATE CHAMPS]

---
SCHEDULE OF EVENTS & PRIZE BREAKDOWN
November 4th & 5th 2011 ..... Suds Bar & Grill (9076 Madison Blvd., Madison, AL.)

Friday: .....(*registration begins at 6pm)
7 sharp! Open Singles ..... $10 entry fee payback & Championship Jacket!

Saturday: .....(*registration begins at 10am)
10:30 sharp! Super Draw ..... $20 entry fee -

Championship Plaques w/ 100% payback!

1 PM OPEN DOUBLES ... *Main Event!

1st - $400 & 'Jackets........ Entry fee is $10
2nd - $300 ............................ Expert - $15
3rd - $200 ...... Pro - $20, ProMaster - $25
4th - $100 ...... (Events may continue Sunday morning)

Sunday: ......(*registration begins at 10am)
10:30 sharp! Expert Doubles ..... $10 entry fee payback & plaques!
1:00 pm Amateur Doubles ..... $10 entry fee payback & plaques!

---

FOR YOUR INFORMATION

Open Doubles is the main event of the weekend and entry is required by all to be eligible to compete in any other event offered.
When applicable, IFP Rankings will be used to dictate a player's eligibility to compete--including chart seeding.
Official rules of the United States Table Soccer Association will be observed and/or the tournament directors' decision on all matters will be final!
Unsportsmanlike conduct will not be tolerated!
Registration and sign-up begins 30 minutes before an event is scheduled to begin while efforts will support starting matches 30 minutes later. Don't miss out!
Open event matches take priority over all other events, however, match coordination will be strictly the directors judgment. Players must be ready to play very shortly after their match has been called. Players competing in multiple events may have to play matches back-to-back. We will not allow an event to be held up waiting for players to report to their matches, forfeiture procedures will be enforced!
This tournament event is not affiliated with the Southern Foosball Programs, Tornado of Alabma, or promoter Rodney Jenkins, I'm only helping with the promotional efforts. Persons should check back often for updates and possible format changes prior to attending, and certainly contact Tom Farley with any questions and/or additional information concerning all matters of the tournament. Phone (256) 682-4768.

---

The host tournament location is at 9076 Madison Blvd/Madison, Alabama. It is just west of and very near Huntsville conveniently located just off Interstate 565. It's a popular spot and very nice pub & grill with billiards, big screen TVs, and a great food menu. Nice Tornado foosball tables are on site while the location is also used for weekly foosball tournament action as well. Age 21 is required. The location phone number is (256) 722-8514.
Contact Tom Farley for tournament information (256) 682-4768.

Directions:
Travel Interstate 565 and take the "Wal Triana exit" which is just west of Huntsville. Exit north toward the adjacent Hwy. 20(Madison Blvd.) and then turn to the left onto Madison Blvd. while the location is a short distance on the right behind Wendy's.

Hotel:
*Laquita Inn & Motel 6 are hotels among others very near the tournament location. Rates for the two are approximately $79 & $49 per night.
---

[FOOSBALL TABLES FOR SALE]
[HOME- Southern Foosball Program] ..... [Alabama Foosball Program]
Direct your questions or comments to the Southern Foosball Program/Rodney Jenkins at (256) 734-6349, or by email: jenkins@hiwaay.net.